Solar Kits For Security Cameras
Stay protected with Sun-In-One™ All Weather Solar Security Camera Power Kits! Our solar surveillance kits are completely plug-and-play, and can power any security camera and backhaul wirelessly via WiFi, Long Range RF, or Cellular Data. We have specially designed our kits to serve a wide variety power needs, giving you the flexibility to choose the power kit that's perfect for you. Each kit includes Solar Panels, Racking, and Enclosed Battery Housing.
Easily Integrated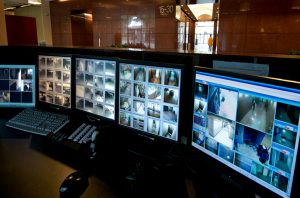 Sun-In-One™ Solar Surveillance Power Kits will power virtually any 12 volt to 48 volt security camera. Our decentralized design means that you can build a surveillance system with unlimited scalability (even terabytes)! Software is 100% included, and comes with advanced functions built in. No central PC, DVR, or VMS is required.
Not sure if we can power your camera? Contact us and we'll tell you!
Sun-In-One™ All Weather Security Camera Power Kits are perfect for remote locations and areas that are hard to access.
Making your security system solar powered means that it will be completely immune to brown-outs and power failures.
Our plug-and-play design makes installation a breeze, and it cuts out expensive trenching and wiring costs.
Need a Full Solar Security Camera System?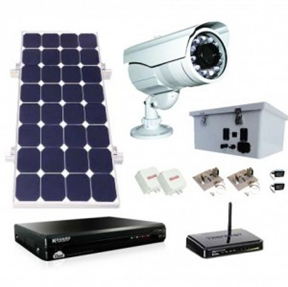 We have specially designed our own Solar Security Camera Surveillance Kit. This kit is perfect if you're looking to boost security around your home, workplace, storage facility, or anywhere else. The Sun-In-One™ weather solar surveillance kit features a high resolution camera zoom lens, on screen display and day/night digital signal processor. It includes a water-proof wireless transmitter that ranges up to one mile away, as well as a digital DVR, solar panel and enclosed battery housing.
Find Out More
Upgrade Your Safety with SkyEye™ Security Systems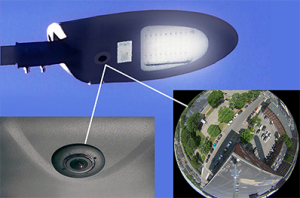 SkyEye™ is a complete LED Street Light and Parking Lot Light System with optional features including super bright LED lights, plug & play wireless controls, active motion sensing, and a top-rated video security camera. SkyEye™ provides the necessary light to illuminate the surrounding area and capture high resolution, full color video at night and during the day, as well as 360º coverage for observation and surveillance. Build a low-consumption, low-maintenance security network that will keep you safe and save you money.
Find Out More